The Last to Go​​​

When the Camp Fire swept through Butte County on Nov. 8, it destroyed over 153,000 acres and killed at least 88 people. Many of the lives claimed were those of the elderly who were unable to escape. The wildfire was fully contained on Nov. 25.


Over 52,000 people were evacuated and fled to local shelters and hundreds took refuge in the Chico Walmart parking lot that became open to the public and provided around-the-clock volunteer services.


After 10 days of sleeping in tents and RVs, evacuees were forced to relocate due to a weather prediction of rain. Red Cross Volunteers said the rain could possibly flood the area where people slept in tents and create further issues.


This project called The Last to Go shot on 35mm film shares the stories of folks who stayed put in the makeshift tent city until the very last day they had been ordered to relocate. A few dozen people stayed behind for their own reasons, trying to make sense of the situation, but most had common similarities– that they already faced difficult hardships long before the wildfires hit.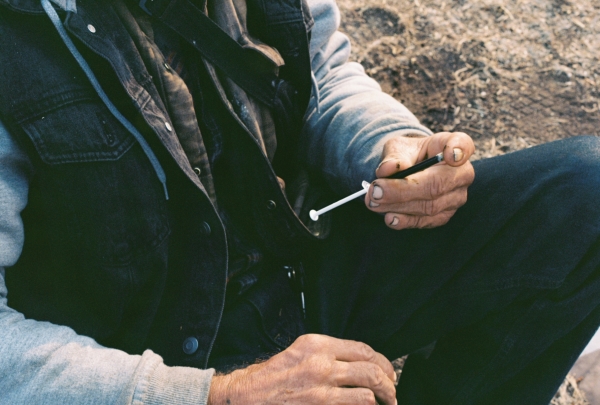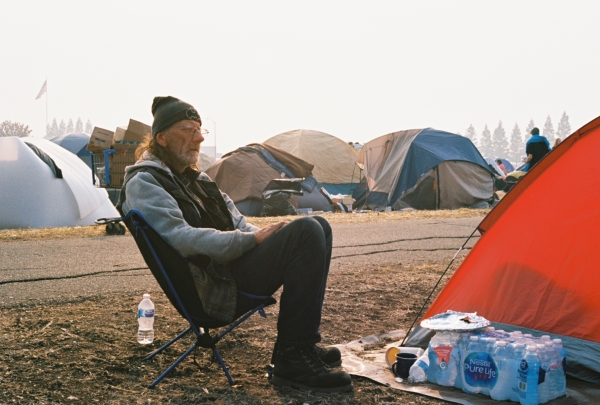 Graham holds a syringe of cannabis oil a volunteer had given him for anxiety.
Eugene Graham (aka The Traveler) lived in Alaska for five years before moving back to Paradise less than a year ago to escape a battle with addiction. "Each time I try to make myself better and then this happens," he said. "What do you do when you get burnt up by a fire?"
Graham also went through a fire in 2005 but didn't lose his home. This time he lost his mobile home in Butte Creek and fled on foot past what he described as 80-foot-tall flames, with only what he could carry in him arms. "All what you see is all I got," said Graham, as he smoked a cigarette outside the makeshift tent city beside the Walmart parking lot in Chico.
On Sunday Nov. 18, the tent city where hundreds of evacuees fled has also been evacuated due to a forecast of rain in the coming week, which would cause flooding and other issues according to Red Cross volunteers.
Although Graham has family members 20 miles out, he plans on travelling to Yuba City. "I live on the edge until there's nowhere out, and then I run," said Graham. "That's what made me, me.. Living on the edge."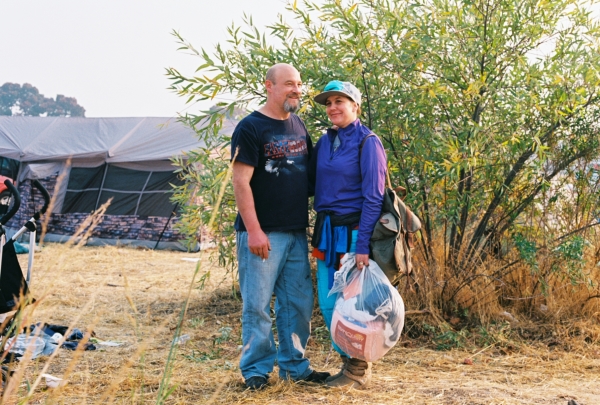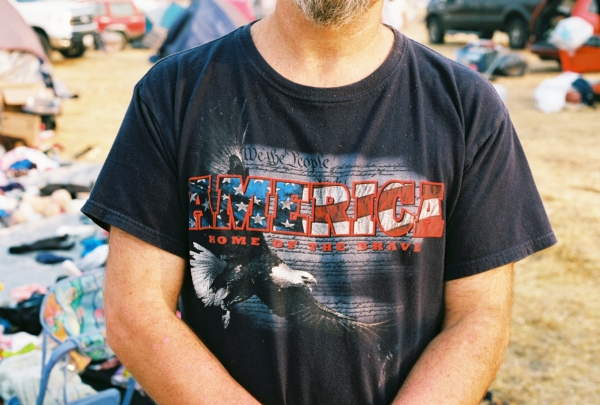 (left) Chuck Pfenning and Charmain Pope. I couldn't get them to stop smiling even if I wanted to. Their spirits were high although the situation was hard to accept. Pfenning said he dug through a pile of donations until finding this "America" shirt that he liked, coincidentally 
on the same day President Trump visited Paradise to speak about better forest managment. When I asked how they felt about the presidential visit, Pfenning said he was happy Trump came to acknowledge the small town but hadn't heard the speech yet, which the president mistakening called the town of Paradise by the name of "Pleasure."
Pfenning said he fled with only two pairs of pants and three shirts. Being on foot, a stranger slammed on his breaks and yelled to him "get in, you're going to die," so he jumped in. Pfenning laughed as he told the story but he knew it was no joke. He had the stranger drive to his 82-year-old mother's home where he knew she was. "We barely made it out, me and my mom." 
Pfenning heard news his house may not have burned down, and he wants to return for the pictures he's collected over the years. He also does not have plans to relocate. "I'll be up there for the rest of my life probably, but I won't live there until its good and safe."
Pfenning said he has two neighbors that are still missing.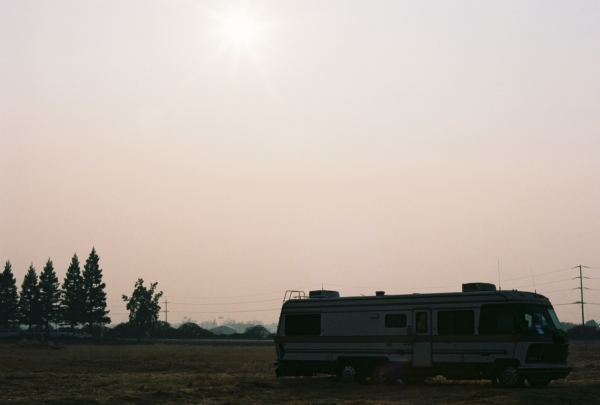 John Richards has lived in Magalia for 28 years. He said some people know him just as "dad" for his willingness to always help others as if they were his own. "I don't like to see pain in people because I felt it on myself," said Richards. "And now I'm feeling it again."
Like many others who were still camping in the Walmart parking lot after the threat of dangerous weather predications, Richards had faced homelessness before. For 10 years he was homeless in Butte County and said he never saw this coming. "When I got it all together and had my own house and everything, it all got taken from me again.. I never wanted to camp again, I threw away my tent and now I'm camping again," laughed Richards.
Richards was still unclear of what the next move was for him. "It's kind of a hard judgement to make.. I feel like a burden on people because well, I can work and I shouldn't depend on anybody," he said. "The people I helped before can't help me now because they're in the same predicament," he laughed again.. "We're all there together this time."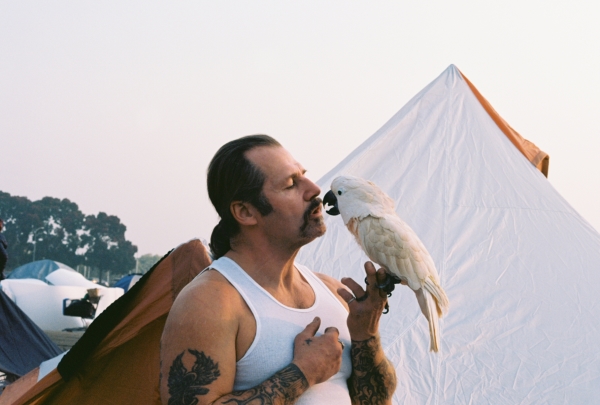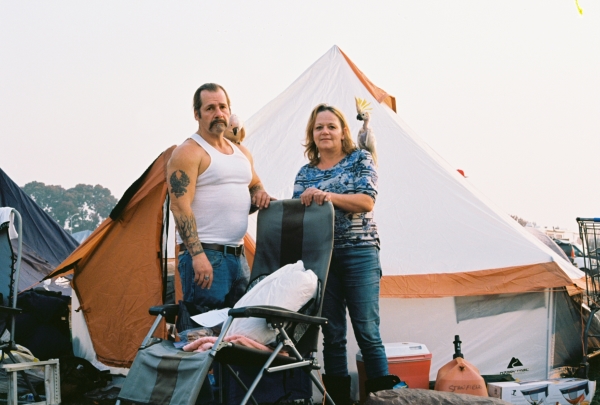 Darrel Jackson said he only had eight minutes to evacuate. He knew this, because he served as an inmate firefighter four years ago and fought the blazes on Mount Diablo during that time. "I expected [this] fire to flare up, but you can never really judge how quick it's going to be."

On his way out, Jackson rescued two elderly women he and his girlfriend care for, as three more friends trailed behind him in separate cars. He described making many close calls as each area he stopped in kept being evacuated. Eventually all the cars ran out of gas but the gas station pumps were empty. Jackson said he paid a worker $50 to pump gas from another car into theirs, knowing that the fire would reach them within 45 minutes.

Jackson and his girlfriend Suzanne Kaksonen, both 54, said they are leaving the makeshift tent city to house-sit for a week in Oroville and they are taking their two cockatoo birds, Buddy and Lady Bird, both 31, with them. A friend has made them a gofundme page to help get them back on their feet in the coming weeks, but Jackson said they have no idea for a long-term plan.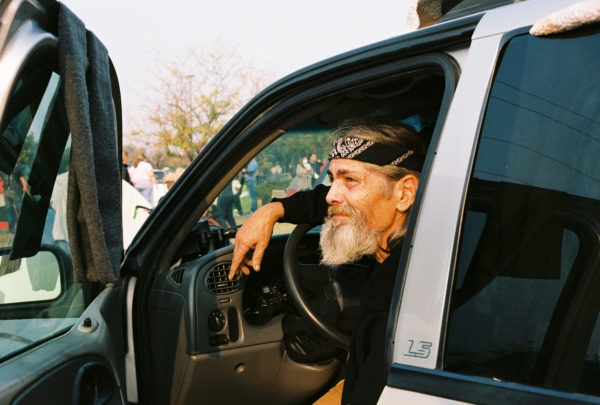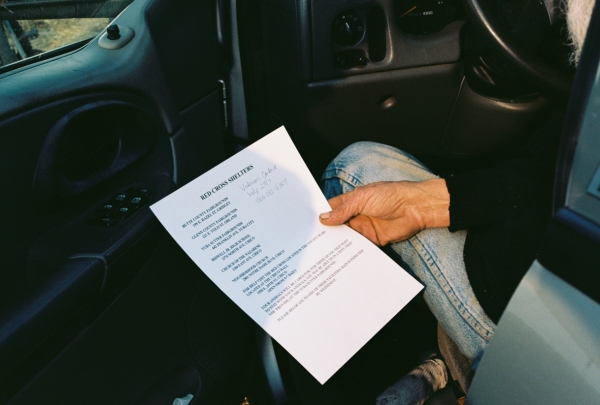 Mike Keesler is a homeless military veteran who said he did not want to consider himself a victim. Although most of Keesler's life has been spent in Butte County, he didn't have a place to call home. "It's just a struggle that some have to go," said Keesler. "I was evicted out of a place and couldn't get things going again. It takes more than you realize to pay rent and utilities and the VA [veteran affairs] I was receiving was not enough really." During our conversation, a volunteer named Marsha approached Keesler to hand him a flier with phone numbers of veteran services provided in the area. "I can remember when Vietnam vets were spit upon coming back from service… It's hard for my generation of veterans because were looked down on." Keesler said he plans on relocating to a different parking lot where a police officer gave him permission to park his car for the time being.